I did it.
I did not travel. I did not crash another family's holiday. I did not go to a Friendsgiving Potluck. I did not host my own. 
I did it.
For the first time. I had a Thanksgiving for One. On purpose. 
It seemed like the right time to do it. A calm, quiet, holiday with just me.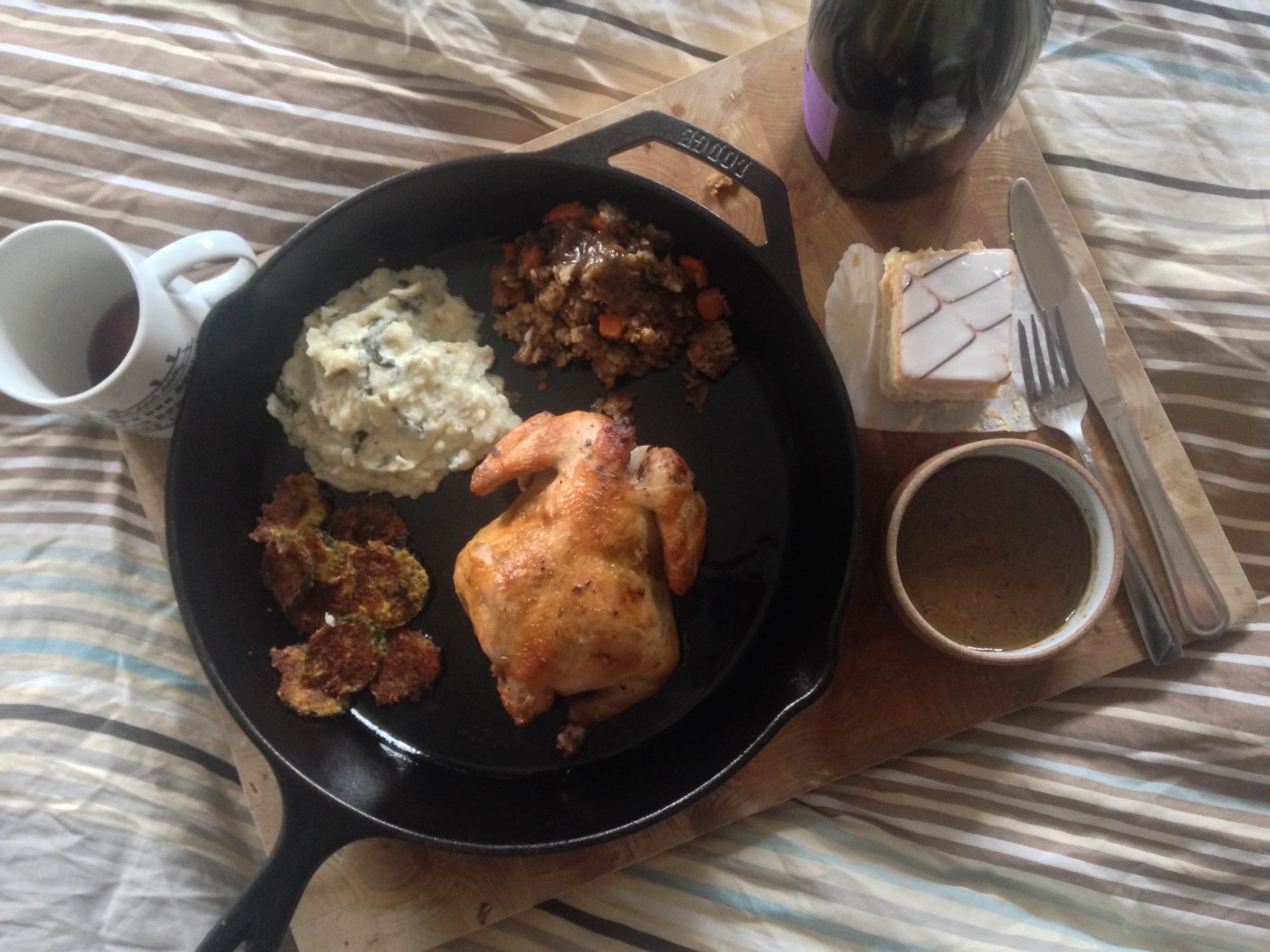 So how do you do it?
Well, you watch the parade in your bed. You have a 4 hour family video hangout/bourbon session with your siblings.
You cook just enough for you and then eat it in your bed while watching your favorite holiday film (Home for the Holidays)..
Make a main. Lobster. Scallops. A Turkey Breast. Or a tiny Cornish Game Hen (that way you can still dry brine the bird, stuff the bird, slide compound butter inside the bird's skin, roast the bird, carve the bird, and make stock).
Make a full helping of your favorite dish. For me, it is my mother's stuffing. Wild rice, spicy Italian sausage, bagged stuffing, and lots of stock. I can eat this for days. And I did. Lots of leftovers. If you need inspiration for that, try this Stuffing Dumpling Stew or these easy Stuffing Croutons..
Make tiny sides of the other stuff. Don't cook for a family. Cook just for you. That way you have less leftover to temp you to waste. I made a little bit of hen pan gravy and a tiny portion of the delicious Cauliflower Basil Mash. I am talking three small potatoes, 1/3 head of a small cauliflower. Still enough for leftovers. Just not a lot of leftovers..
Make something out of something you already have in the fridge, i.e. cook with leftovers. I made these gorgeous Zucchini Parmesan Chips out of the leftover -already cut and seasoned- zucchini slices from last week's pickling gathering..
Buy dessert. Ok, if you are a baker, which I am not, you can make a tiny dessert. One. Or buy something you love. A mini pumpkin pie. A tiny apple danish. A cannoli. A napoleon. Because why the hell not?
Drink. Coffee. Bloody Mary. Champagne. Bourbon. All of the above.
Take a nap..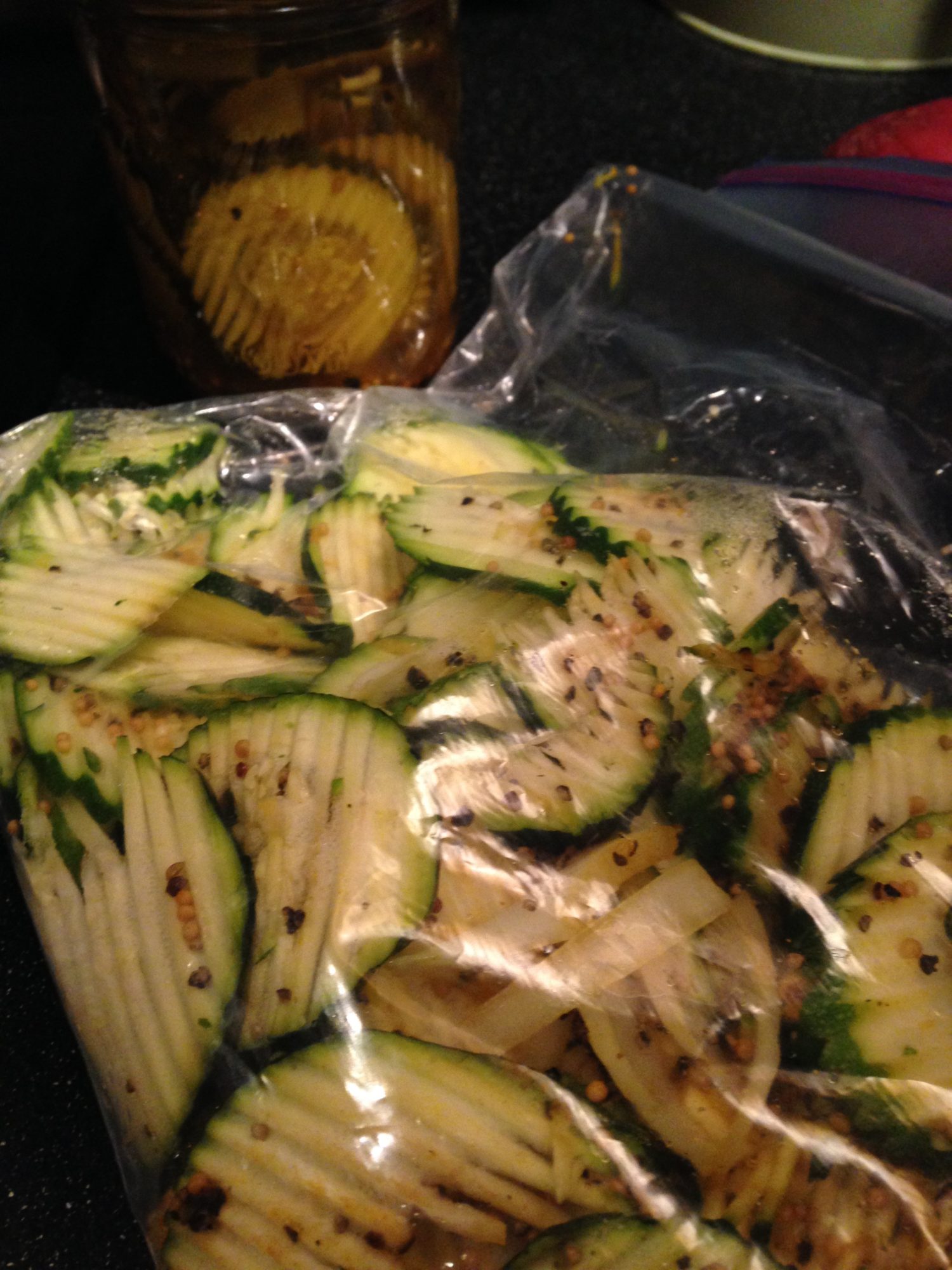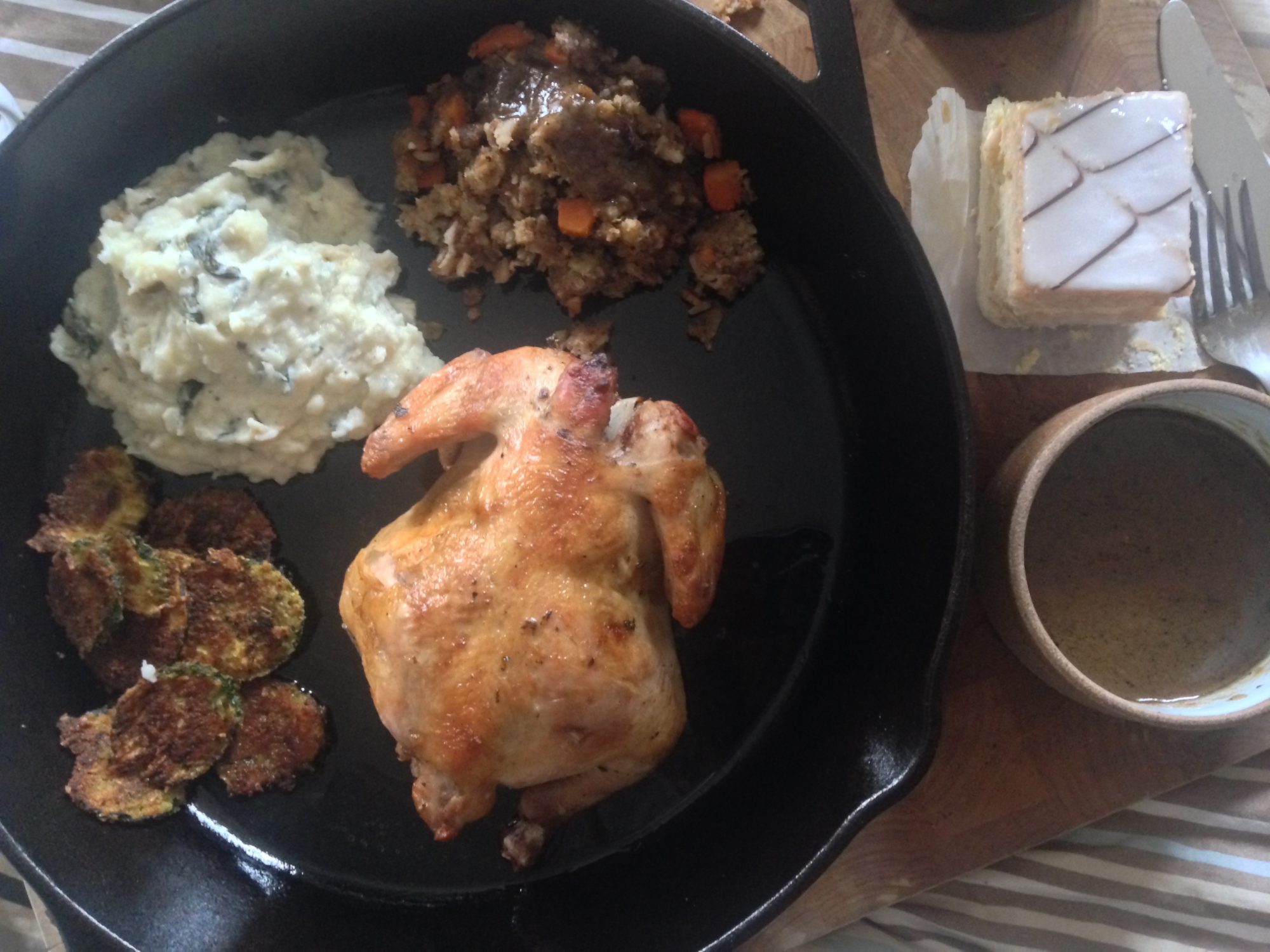 Ingredients:
Zucchini, sliced thinly, with a mandoline if you have it
Seasonings. My zucchini had a tumble with mustard seed and a bit of turmeric.
bread crumbs
good shredded Parmesan
a little butter (compound butter leftover if you have it)
oil, or oil spray
Slice your zucchini and season them. Mix together 1 part Parmesan to 1/2 part bread crumbs. Season the mix. Then coat your zucchini in butter, just a little, and dip in the breading on both sides. Place on a greased cookie sheet and into the oven, flipping once to get a good browning on both sides. My oven was at 450 because I had the bird in there on high (20 minutes at 45 cooked that hen perfectly), so I think my zucchini took 4-5 minutes a side, but I had to watch them carefully.
Enjoy!
Oh, and then go to a party and drink lots of wine. Don't spend the whole day alone..