I am not sure you know this, but I cannot eat ricotta.
And I have this weakness for processed cheese..
But what do you do with a stack of cheese slices you bought out of impulse and only really need to eat two or three of??
Well, use it in strange ways, maybe..
I mean, just look at that gooey cheese leaking out of the eggplant slices.. 
Argue with me now.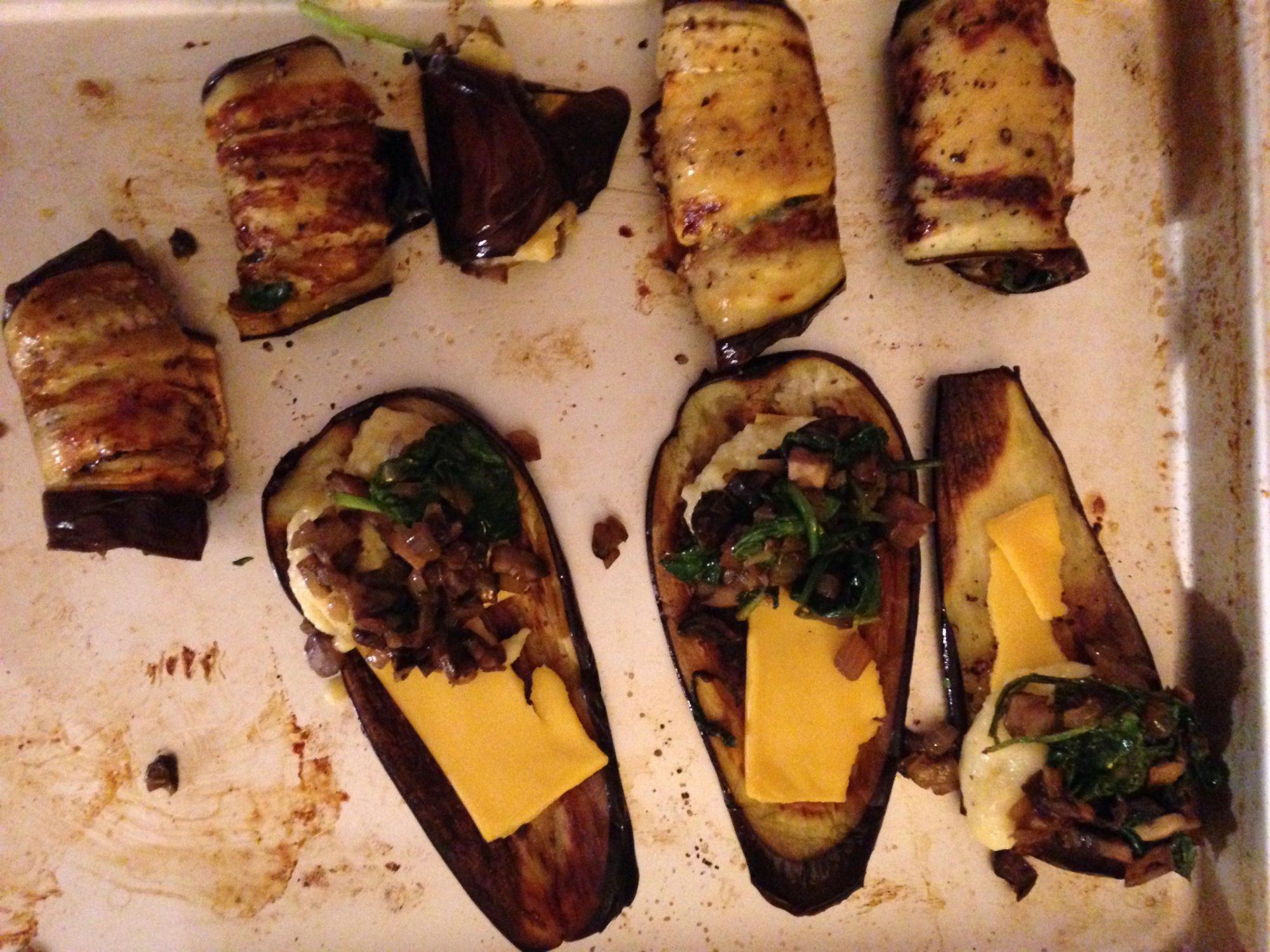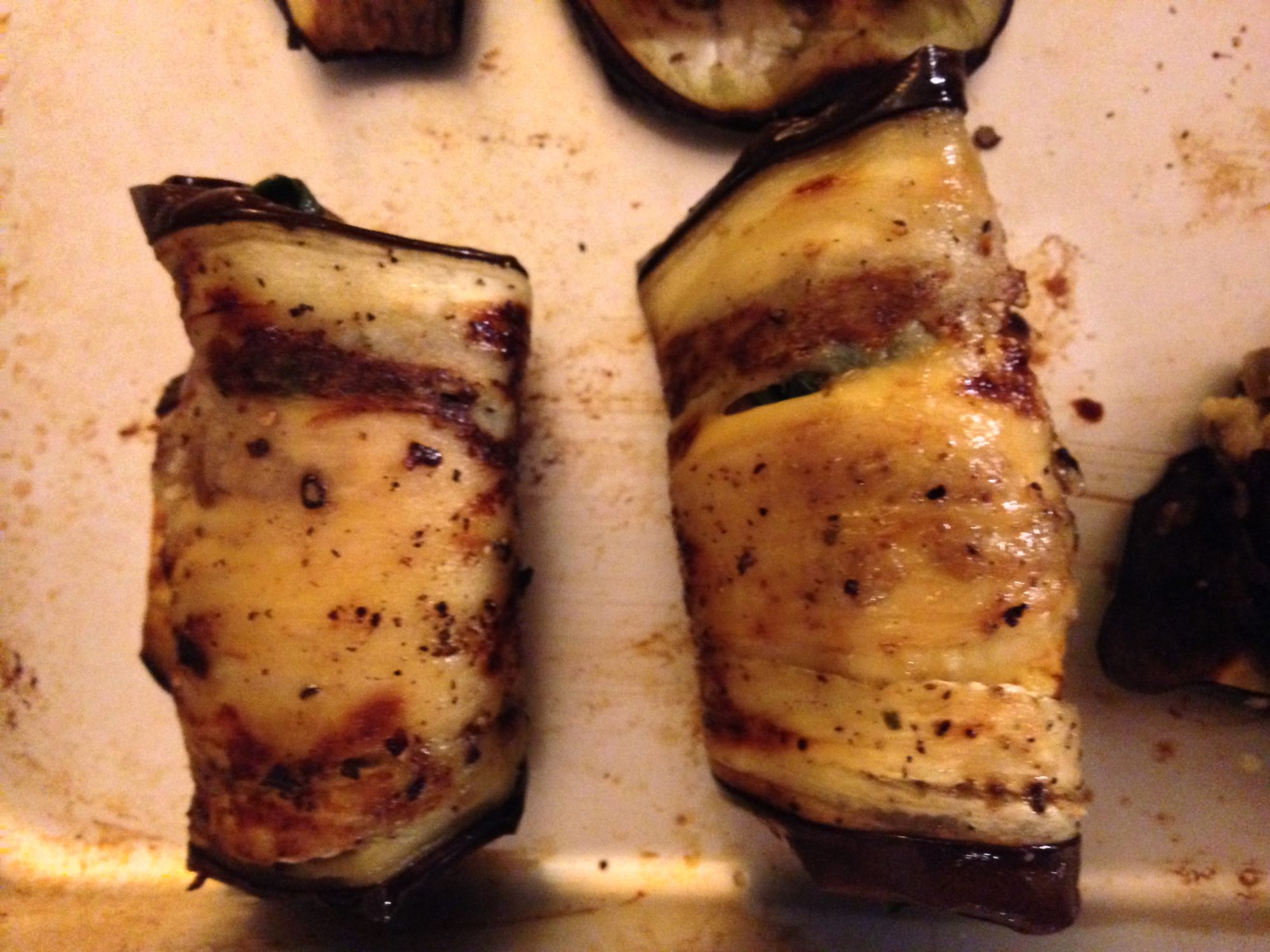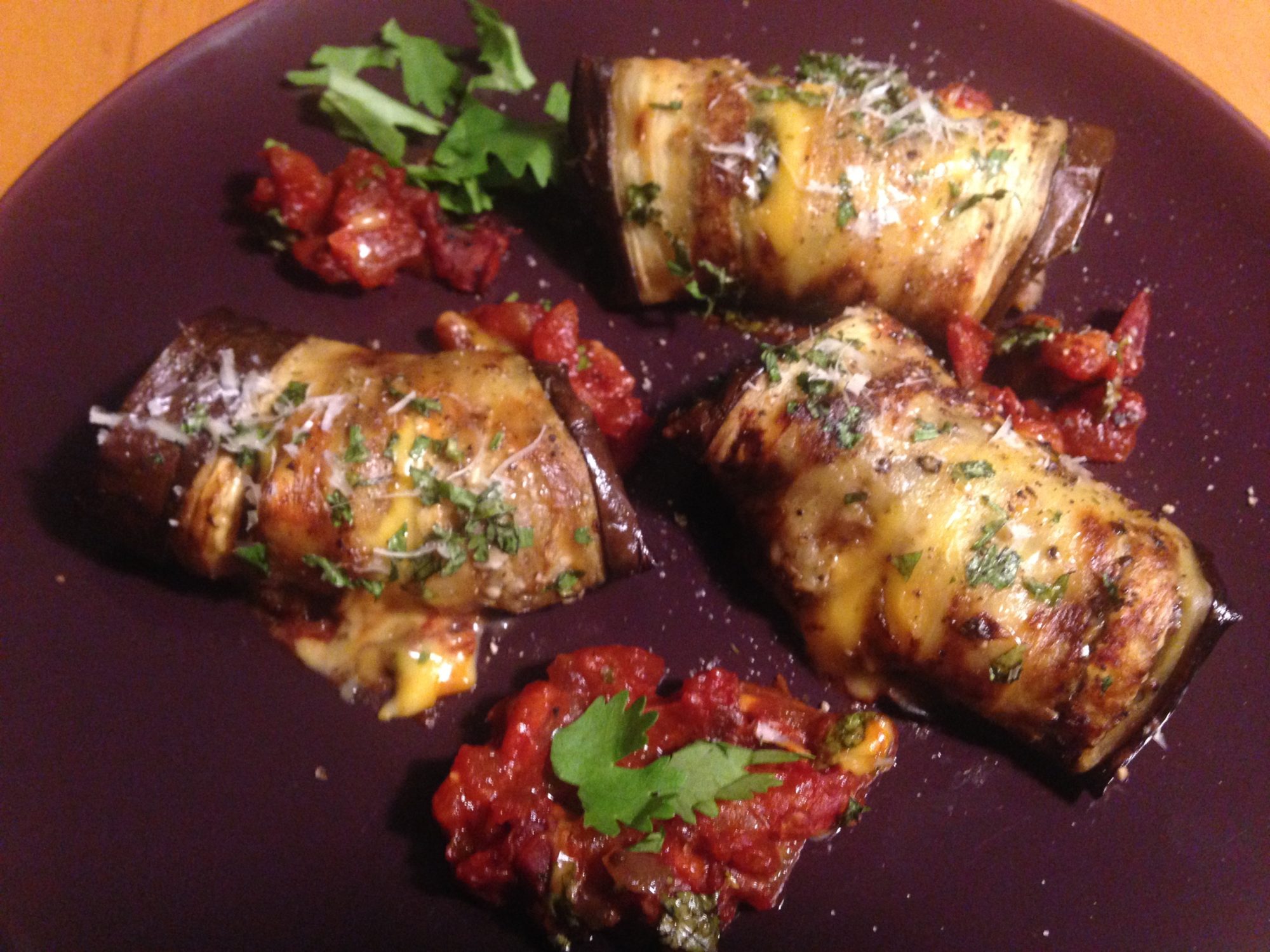 Ingredients:
1 medium eggplant
2 slices of processed cheese (velveeta!), quartered the long way
1/6 cup cornmeal
2/3 cup water
2 baby bella mushrooms, chopped
1/4 small onion, chopped
1 handful of spinach
1 splash of oil and some cooking spray (optional)
optional splash of pickle juice
2/3 tomato (or a whole one, that is just what I had), diced
1 tbsp of tomato paste
diced cilantro
shaved Parmesan
I was lazy. Cut the eggplant on the long edge, 1/4-1/2 inch thick. Substantial slices. You should get 6-8 of them. I got 8 counting the heels.
Spray a cooking sheet with oil. You could, alternatively, use a brush of olive oil. Place the slices on the sheet and spray/brush the other side of the eggplant with oil. Season with salt and pepper. Bake in a 425 degree oven for 15 minutes. Then flip the slices over and bake for another 5 minutes.
Meanwhile, make the polenta. The polenta is a nice creamy middle if you don't do ricotta (me). Boil 2/3 cup of water and then slowly whisk in the cornmeal, turn it to low, cover, and cook for 20 minutes, whisking every few minutes so it doesn't stick to the bottom of the pan.
Ok, now, while you are doing that, add a splash of oil to a medium hot pan, and then saute up the mushrooms and onion until they get translucent. Season and, if you want, add a splash of pickle brine. I love to do this with my mushrooms. Add the spinach and cook until it its wilted. Season.
Now, you have all the pieces except the sauce. In a pan (the one you just removed the mushroom mix from) cook the tomato paste for a minute or two, then add the tomatoes until they are cooked down into a sauce. You can add a splash of water if you need to. Alternatively, you could use tomato sauce, I just didn't have any.
Make the involtini. Top each eggplant with a thin slice of cheese. At the top of each eggplant slice add a tiny spoonful of polenta and a tbsp of the mushroom mixture, and then carefully roll up each one and place it on the tomato sauce. Top them with cilantro (or whatever) and some Parmesan. Season.
Bake them in a 350 oven for 10 minutes or until the tops get browned and it all looks nicely heated together..
Tastes like eggplant, and, you know, velveeta..