A little leftover quinoa and now this is my new favorite dish.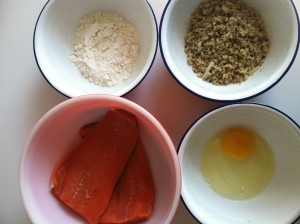 Ingredients:
2 salmon filets
1 cup of leftover quinoa
1 egg
1 cup of flour
1 tablespoon olive oil
2 tablespoons soy sauce
Dip the salmon in the flour, egg, and then quinoa and place in a hot frying pan containing the oil and soy sauce. That's it. Cook til done. 5 minutes, or so, on each side.
AND don't waste the egg. Cook it up in the pan and eat it with your salmon..