It takes forever to simmer, but it is worth your time.
Huge scoops of Weber's Jalapeño Mustard, an open condiment sitting in my fridge for way too long, spice this stew up and make it really interesting..
A side of half cauliflower and half potato mash up all the good gravy..
You could put all your left over almost-dead vegetables in this stew too and it would be glorious. 
I didn't have any.. (next time I will)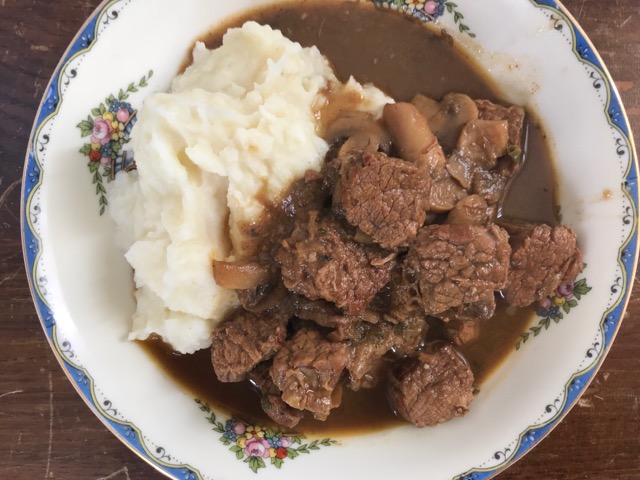 Ingredients:
splash of oil
1 small onion, diced
1 cup of sliced button mushrooms
1 pound of beef stew meat, cut into medium chunks
big sprinkle of cumin (1 tbsp?)
small sprinkle of coriander (1 tsp?)
small sprinkle of smoked paprika (1 tsp?)
splash of balsamic vinegar
2 cups of chicken stock
2 cups of water
2 tbsp good mustard
side of cauliflower potato mash
In a hot pan (dutch oven), heat up the oil and add the onion and mushrooms for 5 minutes or so until cooked through. Move to the side or remove from the pan. Add the meat and brown on both sides until you get a good brown sear. Season and sprinkle with cumin, paprika, and coriander. Add the onion and mushrooms back in. Deglaze with a little balsamic.
Then add in the chicken stock, water, and mustard. Bring to a boil and then lightly simmer for 2-3 hours, until your meat is tender. Season to taste.
If you need more liquid, add some more water and keep simmering.
Serve with mashed potatoes (1/2 cauliflower if you want- with butter).
You can swirl a bit more mustard in too if you want it spicier!