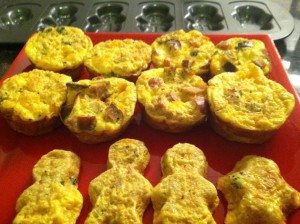 Scrambled cheese couscous eggs are my new favorite breakfast, but lets face it, you don't get up early enough for that on any weekday.
These muffins will fill you up all week. You can add all the rest of your leftovers to them, and even make them into some crazy cool gingerbread family shapes, if you want to..
Ingredients:
1 small carton of egg beaters (or 6-7 eggs beaten)
1/2 cup leftover couscous, and other stuff (like 1/2 leftover hot dog)
12 tiny slices cheese (colby jack)
Grease a 12 cup nonstick muffin tin liberally. Pour in the eggs about 1/3 way. Add a spoon of couscous and other stuff. Pour the eggs on top up to about 3/4 full (they will rise a bit). Season liberally. Put slice of cheese on top. Bake in 350 oven for 20 minutes. (the gingerbread men take less time).
Eat and be happy. 🙂