Meg really wanted Chinese BBQ pork..
So we made it. Although I had to devise my own hoisin sauce, which doubles nicely as pasta sauce..

Anyway, it was wonderful, if only because we grilled in the winter cold..
And then the leftover sauce went into this pasta.
Something hearty and comforting to warm you up after grilling.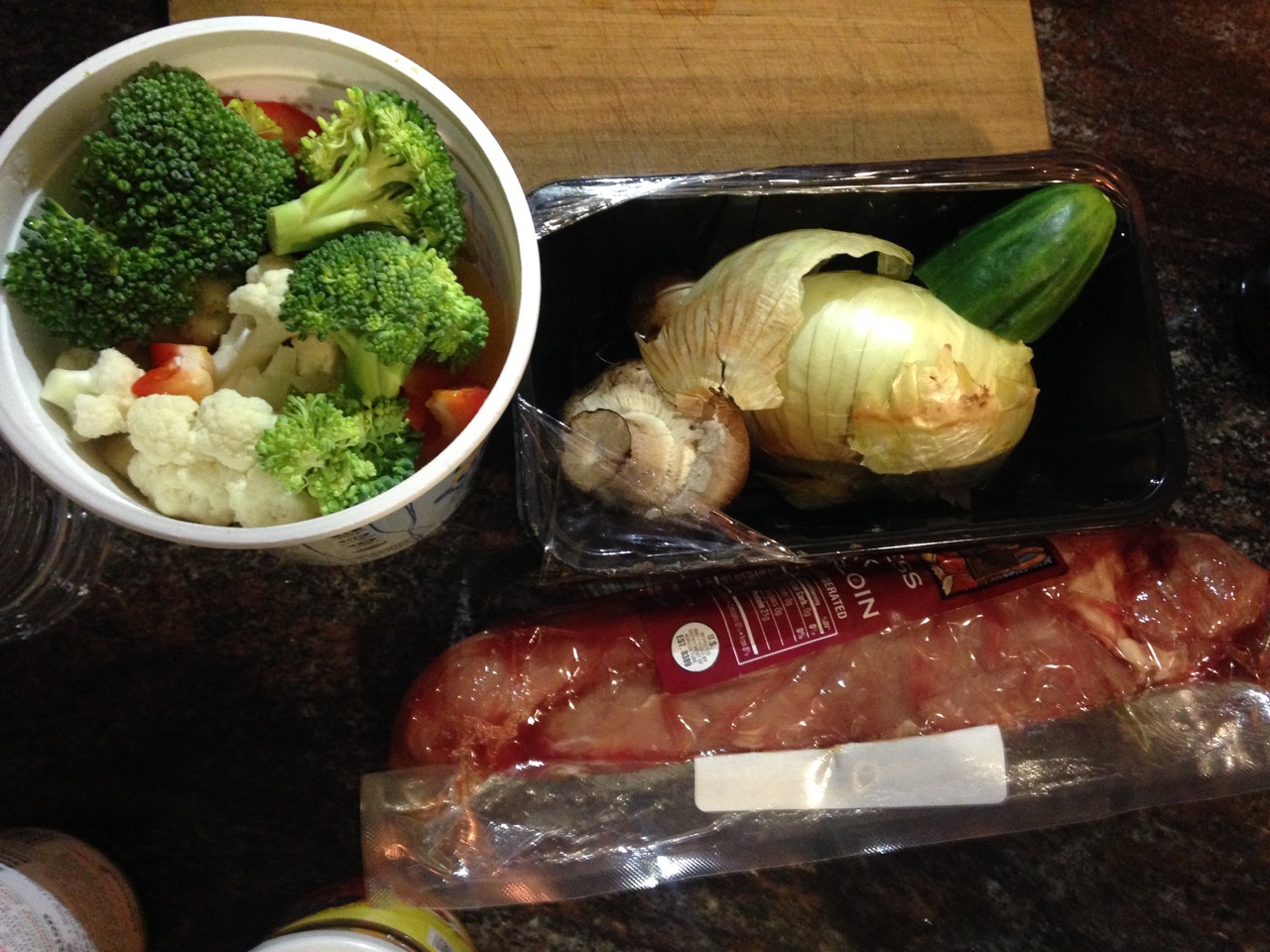 Ingredients:
2 tbsp Hoisin Sauce- this makes about 3 1/2 tbsp

1 tsp sesame oil
2 tbsp soy sauce
1/2 tsp peanut butter
1/2 tbsp honey
1 tsp white vinegar
garlic powder
black pepper
10 drops hot sauce

1/2 tbsp sugar
1 1/2 tbsp honey
1 1/2 tbsp soy sauce
1/2 tsp sesame oil
1 tbsp olive oil
1 pork tenderloin- 1 1lb
veggies, cut into strips
2 packs of yam noodles (or 2 cups cooked noodles)
reserved pasta water
a drizzle of soy sauce garnish
This looks complex, if only because the pork marinade has lots of ingredients, and I did not have any hoisin, so I just kind of made my own.. But that leftover hoisin sauce goes great mixed into the noodles with some reserved pasta water to make a nice sauce.. If you have hoisin, you could just use that..
Make the hoisin sauce and then combine the first list of ingredients until you get the marinade for the pork. Pour it over the pork tenderloin and let sit for a while. Overnight is best, but we had 20 minutes, so do your best.. Turn your grill on (or your oven to 350). On the grill, we do 20 minutes, or 5 minutes a side. You want to put the pork on the grill and then use a brush to dab a bunch of marinade on all three sides. Turn it after 5 minutes and dab on more marinade. Repeat. This give it that nice crispy glaze. Let it rest for 5 minutes before slicing and cutting into chucks.
Roast up the veggies, with a grill, or a high temp oven. Toss them with a little oil and some spices and roast them up.
If you are using yam noodles, rinse and boil them for 1 minutes. Or, make your pasta, reserving some of the starchy cooking water. In a pan, add the noodles, remaining hoisin sauce, and a little bit of the cooking water. Season. Let the water cook off, stirring. Add in the veggies and then fold in the pork. Drizzle with a little finishing soy sauce and eat it. Maybe a little hot sauce garnish?
Pork tenderloin is so easy to make. Just don't ever buy the pre-seasoned ones..