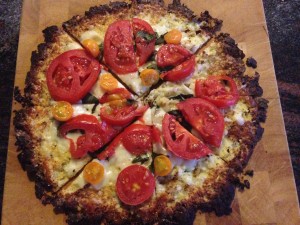 Second time making it, and I am definitely getting better. So good for you.. And so tasty!
Ingredients
1 cup of mashed up raw cauliflower (or use a cheese grater)
1/4 cup of egg beaters, or one egg
1/4 cup of shredded mozzarella, part skim
1/2 clove of diced up garlic
Mix it together and spread on a VERY WELL greased sheet. Cook in a 425 degree oven for 25-30 minutes, flipping once. Add toppings- like cheese and tomatoes.
Cook for a few more minutes. Eat and be awed.
And your personal pan pizza awaits. Serves one.