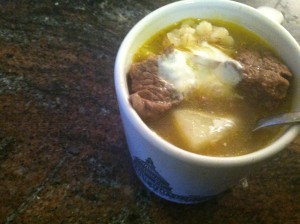 This soup is so good for that terrible cold traveling around. Barley is my new favorite grain.
Ingredients:
1 pound of beef stew meat
3 cups of stock
2 cups of water
1/2 cup barley
3 carrots, chopped
1 small onion, chopped
1 potato, chopped
sour cream dollops
1 pat of butter
Brown the meat with the butter over medium high heat. Add the onions and saute for 5 minutes. Add the water and stock and simmer for an hour. Season. Add the carrots, barley, and potato (and any other vegetables). Simmer for another 30 minutes. Top with a sour cream dollop.
I like my barley al dente..