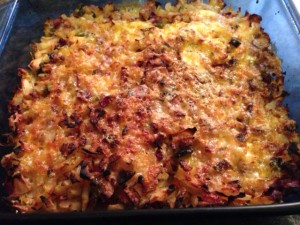 This dinner was a complete accident, after discovering diced apple leftovers from preparing Meg's birthday apple pie cake last week.
Add to store bought spiced hash browns (or shredded potatoes), mix in leftover sauteed vegetables, and bake with a cheesy topping. And then possibly eat with the tzatziki you always keep in the fridge. Cheapest dinner ever.
Ingredients:
1 package southwest style hash browns (about 4.5 cups of shredded potatoes with some additional spice). We had these..
2 cups of apple, diced
2 cups mixed vegetables hiding in your fridge, diced (we had about 1/8 green pepper, 1/8 red onion, some slaw with shredded carrots and cabbage)
2 garlic cloves, minced
1 1/2 cups cheese, shredded (Parmesan Colby mix for us today)
Saute vegetables and garlic. Mix apple, potatoes, and vegetables. Season. Put into a large baking dish (or two small ones). It should be about 1/2 inch deep. Bake at 450 for 15 minutes until crispy. Add cheese on top and broil for 3 minutes, making sure to not burn it.
Eat it all.